Starting a new mobile plan doesn't have to be stressful and inconvenient (we're looking at you, mobile store). With the help of a handy app, it might even spark a little joy. Here's a quick rundown of what to do before you activate, during activation, and after activation, to ensure smooth sailing over to Reach.
Before activating your new mobile service
First things first -- let's make sure you have everything you need to activate your line.
Make sure you have on hand:

You Reach Welcome Kit and SIM card
Your Reach-ready device (unlocked, paid in full, and compatible with the network)
Info about your current carrier account (if you're bringing your number over): Phone Number, Account Number, Account PIN (not all carriers have one), Billing Zip Code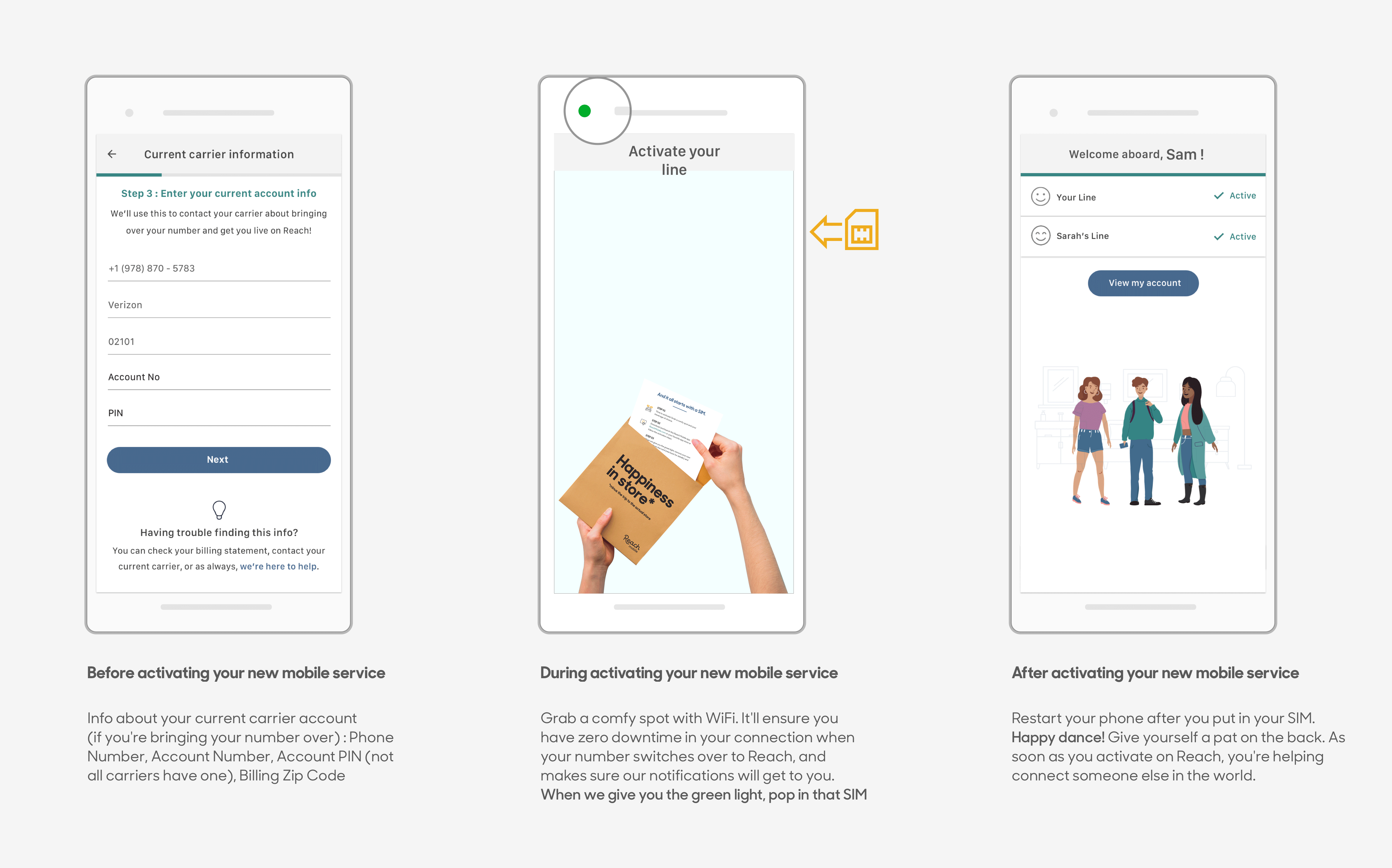 During activation of your new mobile service
Grab your phone and let's get started:

Download the Reach app (available on Google Play and App Store)
Resist the temptation to put in your new SIM. That step will come soon…but not yet ;)
If possible, grab a comfy spot with WiFi. Why? It'll ensure you have zero downtime in your connection when your number switches over to Reach, and makes sure our notifications will get to you. Need to be on the go? No worries! Your current service will continue to work until your number switches over. Just bring your Reach SIM with you so you're ready when it does.
Open the app, follow the activation steps, and voila!
When we give you the green light, pop in that SIM
How long will this take?If you're getting a new number, you should go live on Reach almost instantly. If you're keeping your number, we'll start the number transfer right away. Typically it takes anywhere from 5 minutes to 2 hours to complete. Any longer, and our Customer Success team will be reaching out to you personally.
After activating your new mobile service

Restart your phone after you put in your SIM

Make sure everything is working as it should (turn off WiFi, then make a call, send a text, hop on the internet)

If you brought your number over, your previous service should be cancelled automatically and your old SIM will no longer work. If you got a new number, you'll need to officially cancel your other service now.

Happy dance! Give yourself a pat on the back. As soon as you activate on Reach, you're helping connect someone else in the world.
Aside from paying it forward with every connection, one of the best parts of Reach is our customer promise. If you need us, we're here for you. Visit the Help Center for support at any point during your activation process.
Happy connecting,
The Reach Team